There are a number of resources in which you can find out more information about expats and, Cape Verde travel. We have a number of blog posts written by expats and, for expats, or those looking for further information. The blog posts about expats Cape Verde travel include information on trips by expats to the Canaries, shopping & visa renewal. There are more online resources and books such as the Bradt Guide book about Cape Verde.
The Cape Verde islands are becoming increasingly popular with tourists and those passing through Cape Verde to other destinations.
International travel to Cape Verde
There are many more charter flights from other countries that now fly direct to Sal and Boa Vista. Flights from European, American and African countries are increasing yearly. UK flights fly direct to the Cape Verde islands of Sal and Boa Vista. These UK flights depart from airports including Birmingham, London Gatwick, Manchester, Glasgow and Bristol.
In 2019 Thomas Cook UK announced they would have to close their operation and business. Unfortunately, expats and those who preferred to fly with Thomas Cook on different days or times to TUI UK were disappointed.
The outbreak of covid-19 has affected tour operators world wide. How many of these tour operators will fair in the coming weeks and months is unknown.
Inter island flights in the archipelago
Binter Canarias operate an inter flight service between the Canary Islands and some other destinations. In 2016, Binter Cabo Verde airline started operating flights between a number of the Cape Verde islands.
Inter island ferry service
Some islands are closer to each other in distance and may operate a regular ferry service between those and other Cape Verde Islands. There is no ferry service between Sal Island and Boa Vista.
Cruises and specialist ocean travel
A number of cruise ships visit islands with deeper ports, such as the port at Mindelo on Sao Vicente.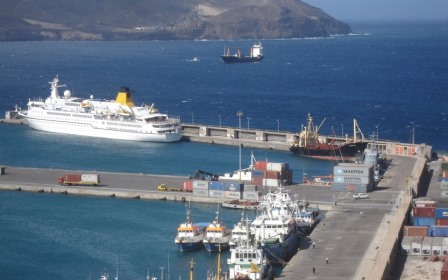 There are other alternative options to sailing between the islands such as booking a voyage on one of the tall ships that visit the Islands. Some of the tall ships offer passengers the opportunity to participate in an unique sailing experience.
Tours and Excursions
Travel operators offer tour excursions on an island or to other islands, the length of travel will depend on your itinerary. You can make your own travel arrangements before you travel to Cape Verde or book trips and excursions once on the island.
There are smaller travel operators that are based on some islands that can help you plan your travel and offer tour guides to show you around. If you plan your own inter-island travel, make sure you leave enough time to return to your hotel or island on which you are based, so that you can get your international flight back to your own country.
Alternatively you may wish to book with the Travel Company with which you booked your package holiday.
Internal link:
External Link: