Hello one and all. We are bringing you our February 2018 News from Sal. It's been a very busy February with a number of activities and events taking place. This month included the carnival and the GKA Kitesurf World Tour.
Carnival – 14th February – Santa Maria
The carnival on Sal is held in the month of February and is firstly held in Espargos, then the following day in Santa Maria. This way everyone could gets to enjoy the festivities. Thankfully the rain held off, however the winds were quite strong which resulted in it becoming quite chilly in the evening.
This year the carnival floats were impressive and the costumes being worn looked very colourful. There were a number of new themes and different decorations from previous years. The procession was due to start around 5p.m., however previous experience warned of possible delays.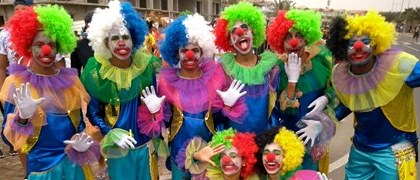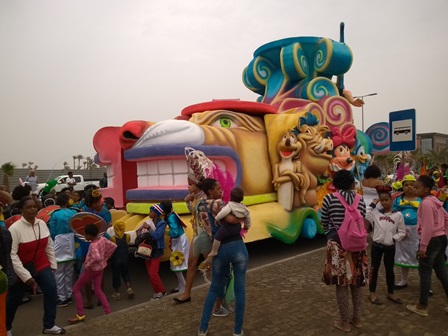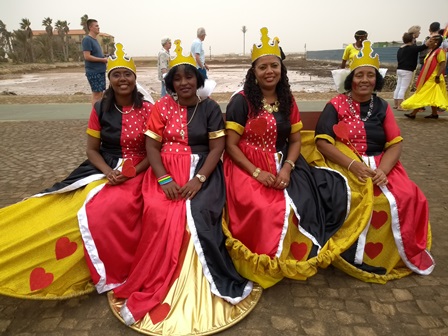 GKA Kitesurf World Tour – Cabo Verde (Sal) 17th-25th February 2018.
Sal Island once again played host for the start of the GKA Kitesurf Word Tour. The competition was due to take place at Ponta Preta where the waves can reach 3 meters or more, perfect conditions for world class Kite surfers.  
Some of the local kitesurfers on Sal, in the photo below, are hoping to be given a Wild Card to enter the competition.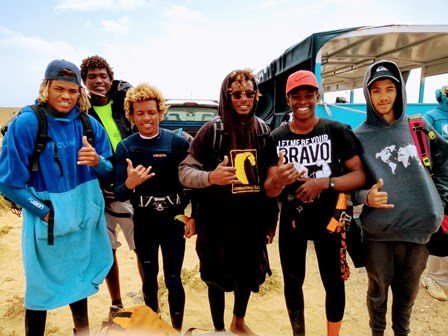 Four local kitesurfers from Sal, who'd participated in trials, competing against each other and were given Wild Cards for the main competition. These Wildcards were given to Titik Lopes, Arsenio Dias, Bernardo Barros and Jordy Sanca.
Wildcard winners
The Wildcard winners that made it onto the podium were, back left Arsenio (2nd place), middle Titik (1st place), Bernardo (3rd place).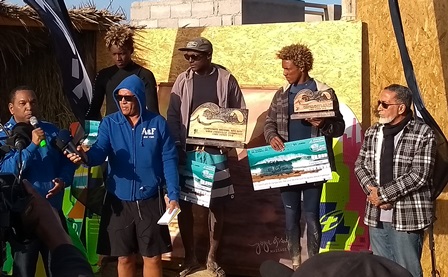 World Champions
Cape Verde has three world kitesurf champions, all of whom are from the island of Sal. In the image below, Cape Verde's kitesurf world champions are from left to right: Airton Cozzolino, Mitu Monteiro and Matchu Lopes.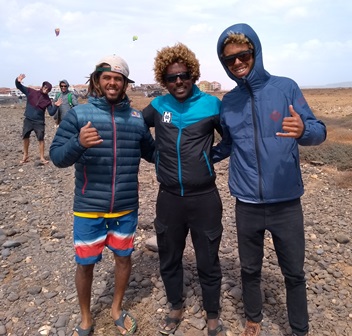 Didi Lopes, the sister of Airton Cozzolino participated in the women's competition.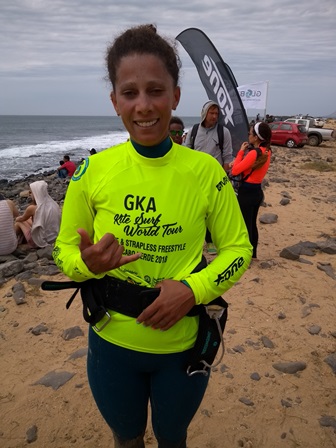 More photos of Kitesurf World Championship. LINK :  KITESURF-GKA-CAPE-VERDE-SAL and video at: GLOBAL-KITESPORTS-ASSOCIATION
Santa Maria Beach – February 2018
Strong waves and winds washed away some of the white sandy beach this February, therefore more sand will be brought in to replace it.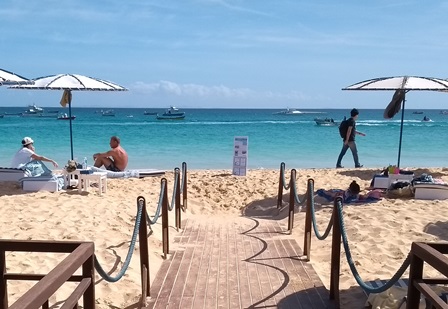 New Ice-cream Parlour for Santa Maria
A new ice-cream parlour is due to open in Santa Maria which is situated on the promenade leading from CVTelecom to Santa Maria pier.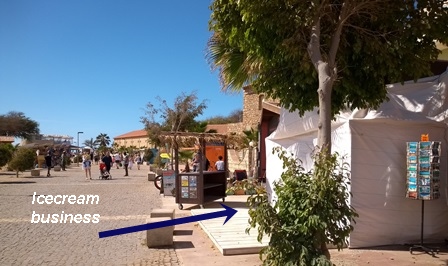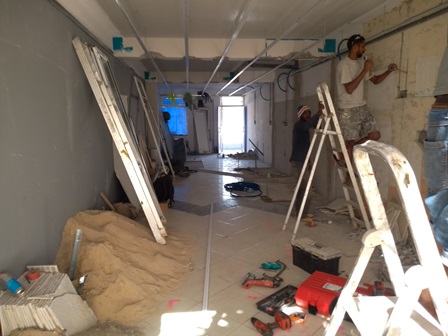 Kyle's Burgers at K&L Studios.
Kyle's been making delicious homemade burgers at 'The Hideaway' which has been is open for snacks, drinks and the quiz nights. Hawaiian, Mexican burgers, cheeseburgers are very popular. In addition to burgers he serves wedged chips and creamy milk shakes. Kyle will now be serving these delicious treats from his design studio ('K & L Studio') situated by the President's House in Santa Maria. The quiz night will be starting soon.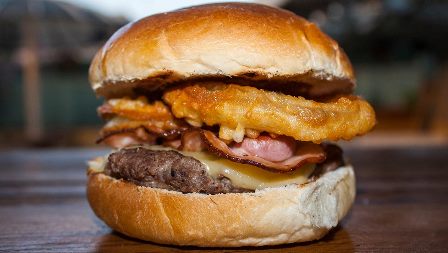 Golf Tournament – Santa Maria
A golf tournament was recently held over the weekend of the 24th & 25th. The organizer of the event, Dany, explained the format. "There was one 18 hole round of Stroke play with handicap. Players had to play one round during the two days and submit the result to the organization at 18.15 on Sunday at the latest. This way of playing suited everyone because many members have jobs and have preferred times of the day they want to play. We currently have about 15 members, however I'll be starting a campaign to gain new members soon. We need to have a good body of members to help us in clean up the course, improve it and keep it sustained. We'll be wanting to find new members in the expat community for sure". Dany.
For further information please contact: Dany Obradovic Duarte.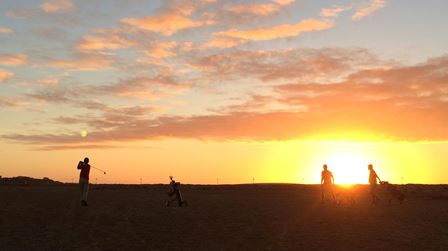 The results of the tournament were: 1st Dany Obradovic Duarte. 2nd Trevor Wilson, 3rd Stuart Lark.
The Dubliner Irish Bar
Amy and Ciaron are in the process of recruiting staff for The Dubliner Irish Bar. They Are Recruiting:
– Chefs
– Kitchen Assistants
– Supervisors
– Bar Staff
– Floor Staff
We are looking for enthusiastic, friendly, hard working employees that enjoy being part of a team environment. All staff need to be dedicated to excellent customer service. English speaking is an advantage but not essential. If tou meet this criteria, please bring your CV to:
The Dubliner Irish Bar and Restaurant, beside Funana Beach Restaurant opposite Salinas Sea Hotel.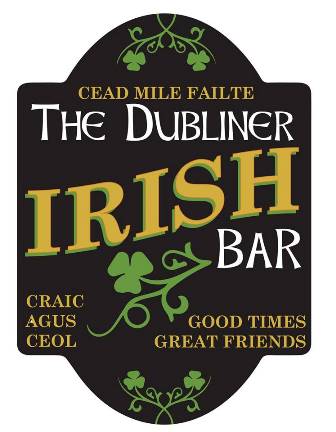 Fish Spa
For sale: The Fish Spa in Santa Maria is for sale. Please view details here. LINK: FISH-SPA-4-SALE-SANTA-MARIA
Thomas Cook
Last week it was announced by Thomas Cook, that they were cancelling the summer flights to Cape Verde. Flights to the UK will finish at end of April 2018 and are expected to re-commence in November at the start of the winter season. It's not just the tourists that are affected, local businesses, expats and regular visitors will find this a blow to travel plans this summer. LINK: THOMAS COOK SUMMER FLIGHTS CANCELLED
Residence Cards
The Government announced it was offering investors that purchase property over a certain amount, the chance to apply for Residence Cards. One expat who'd previously invested in property in Cape Verde sought clarification from his lawyer about the 'new measure'. Feedback: ' The other day, we attended a meeting with our lawyer about an unrelated issue. At the end of our meeting our lawyer confirmed that the new 'automatic' residencia to investors of 120,000 euro or more' would NOT be applied retrospectively to people who had already invested in Cape Verde'.
Social Security
The law requires some professionals working in Cape Verde, to pay INPS (Social Security). A number of expats have been applying for Residence Cards that work, need to pay INPS or have it payed on their behalf.
For those that do not earn the minimum monthly wage, they will still have to pay the minimum INPS fees . If you also only work 6 months of the year, you will also need to visit the INPS office and fill in a form to 'suspend' your monthly registration payments to INPS, then when you do re-start work/employment, you have to go to INPS and complete a 're-activation' form to re-start monthly payments. Make sure you keep a copy of all forms, in case they are lost on the INPS system.
The National Police issue list of requirements to 'All' applicants applying for Residence Cards. The list includes the requirement for you to show proof of paying your INPS. You need to request a document from the INPS declaring you are meeting your obligations of INPS payments. For this declaration to be issued, they require applicants to have made a minimum of 4 months payments.
It's unsure, how this will reflect on new investors or retired pensioners. Some questions, answers and comments have been added to the following new page on Cape Verde Tips website. LINK: INSTITUTE-NATIONAL-SECURITY-CAPE-VERDE-INPS
The tide is high
Well, the waves are rolling in today and trying to have their say along the west coast of Sal but other islands have the same wave conditions today too. Many people were informed of today's waves being high on the west coast of Sal and they went over to watch them, some said they were spectacular. Photo below by Linda Aspden (Sal) .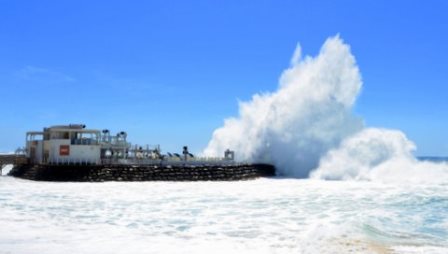 Derek the Pirate of Cabo Verde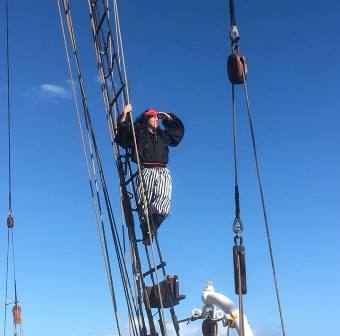 Derek Stott, a regular visitor to Sal, had booked to travel on the Tall Ship the 'Oosterschelde' which sailed around the Cape Verde Islands in February. Derek writes about his experience.
Mozambique – Visa
The Cape Verde government has ratified a visa-free agreement with Mozambique. LINK: JOURNAL-DU-CAMEROUN
AOB
In the January News we included a photo of three vegetables……….. I don't know what the one on the left is called but we had one with our lunch the other day and its fab .. prepare it and cook it the same as you would cauliflower, it's not quite the same but its close enough. The one on the right is just purple cauliflower .. it's actually more healthy than regular / white cauliflower as it contains more vitamin A :o) ………….Thanks J.
For info : The vegetables in your January news update are purple cauliflower & romanescu broccoli……….. Thanks B.
HELLO NEW READERS
Welcome to 'Expats Cape Verde' Sal Island News. We don't post these news circulations online as Blogs often, we ask readers to subscribe to the news and we send it out to your email address. If you wish to subscribe to this FREE circulation, please submit your contact details by using the registration form using this link here: REGISTER FOR NEWS